History of Bowery in Pictures (1831 - 1957)
The Bowery is a neighborhood located in Lower Manhattan that has played an important role in the history of New York City. The area was originally settled by the Dutch in the 17th century and was home to some of the city's earliest farms and estates. Over time, the neighborhood became a bustling commercial and entertainment district, with theaters, saloons, and dance halls lining its streets. By the mid-19th century, the Bowery had become notorious for its seedier side, with brothels and opium dens proliferating in the area.
Despite its reputation, the Bowery continued to be an important part of New York City's cultural landscape. In the late 19th and early 20th centuries, the neighborhood became a center of vaudeville and burlesque entertainment, with theaters like the Bowery Theatre and the Yiddish Art Theatre drawing crowds from across the city. In the 1920s and 1930s, the Bowery was home to a thriving art scene, with artists like Mark Rothko, Willem de Kooning, and Robert Motherwell setting up studios in the area.
Today, the Bowery has undergone significant changes. Many of its historic theaters and buildings have been demolished or repurposed, and the area has become a hub for high-end retail and dining. However, the neighborhood still retains much of its character and history, with remnants of its past visible in its architecture and street life. The Bowery serves as a reminder of the city's rich and complex history, and continues to be a vibrant and dynamic part of New York City.
Engraved illustration depicting the corner of Broadway & the Bowery in downtown Manhattan.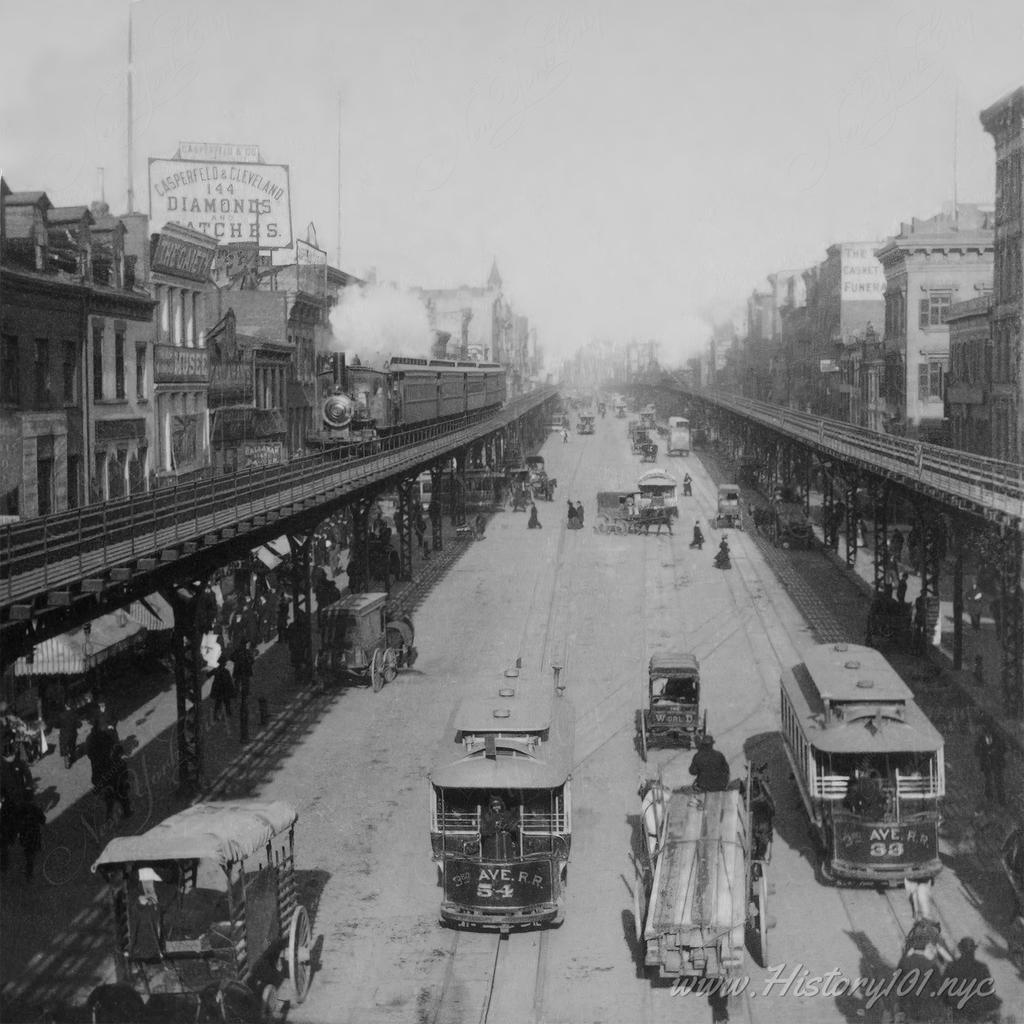 Photograph showing elevated railroad, delivery wagons, streetcars, buildings and people in lower Manhattan.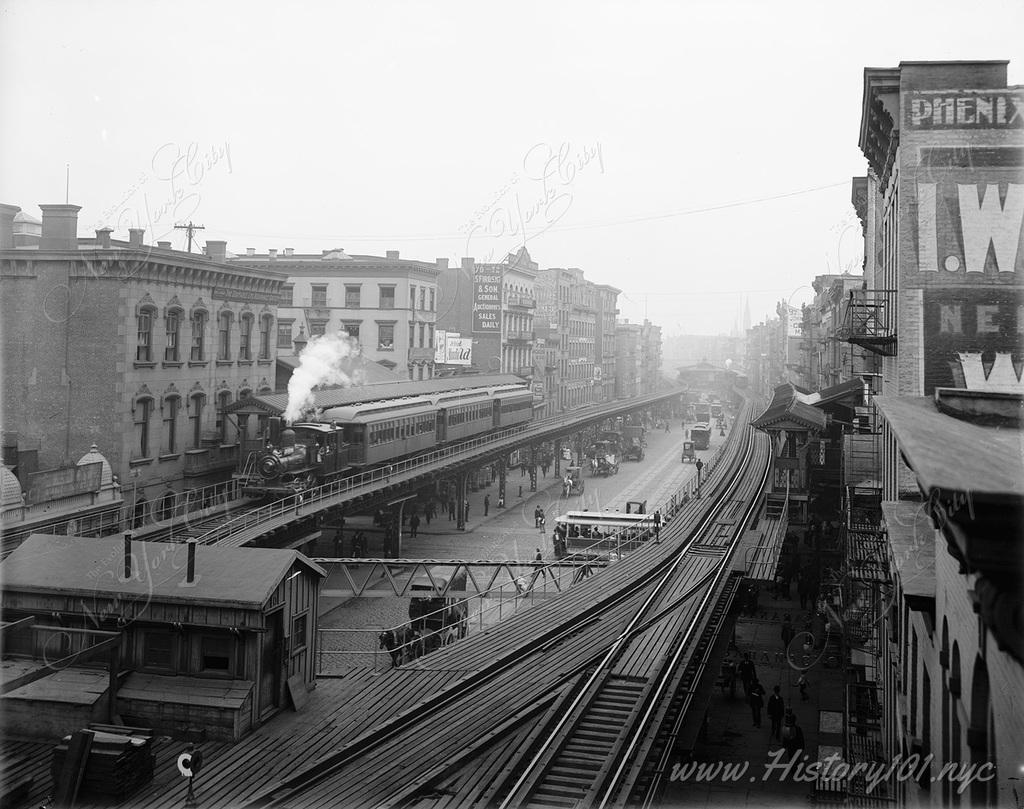 A steam-powered locomotive awaits boarding passengers on the Bowery's elevated train line near Grand Street.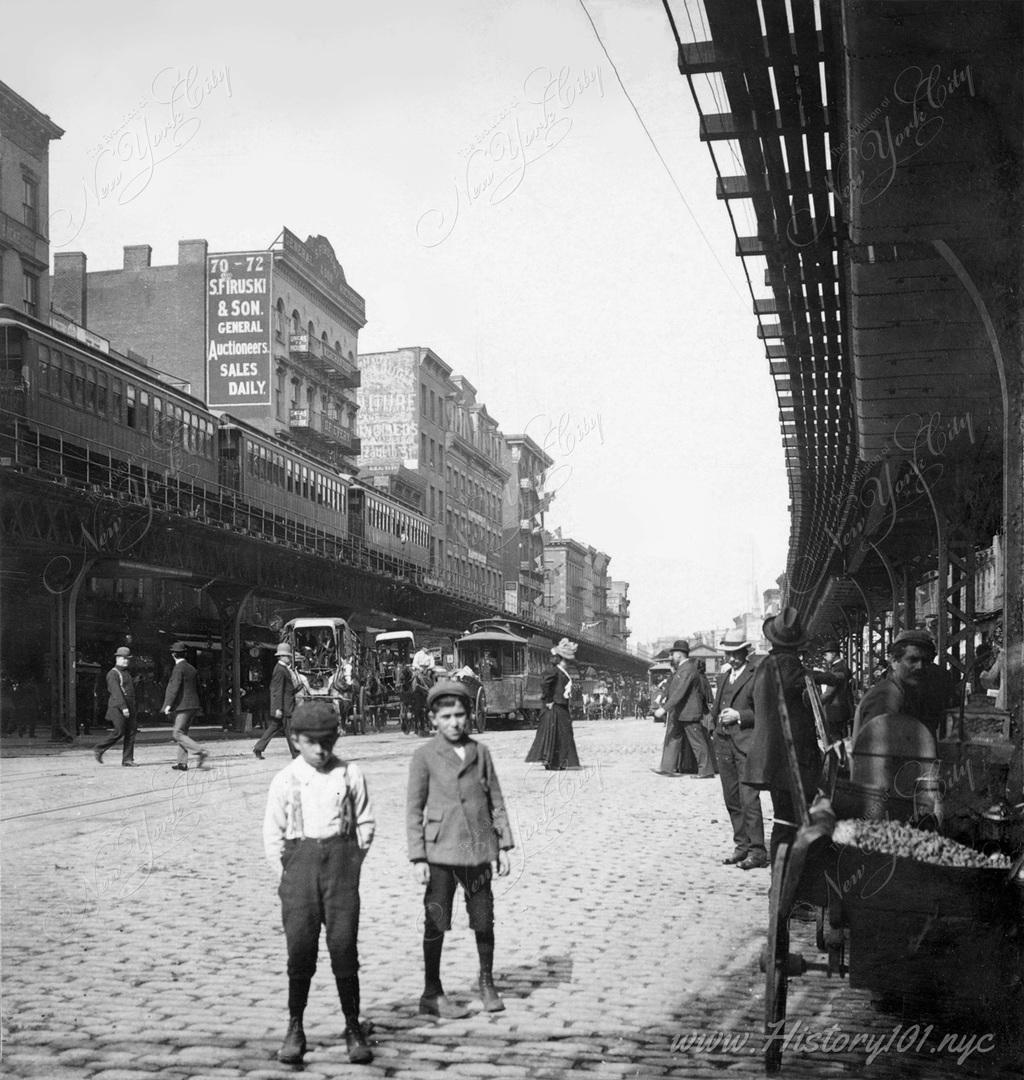 Photograph of a busy scene on the Bowery as pedestrians make their way across the street and under the elevated overpass.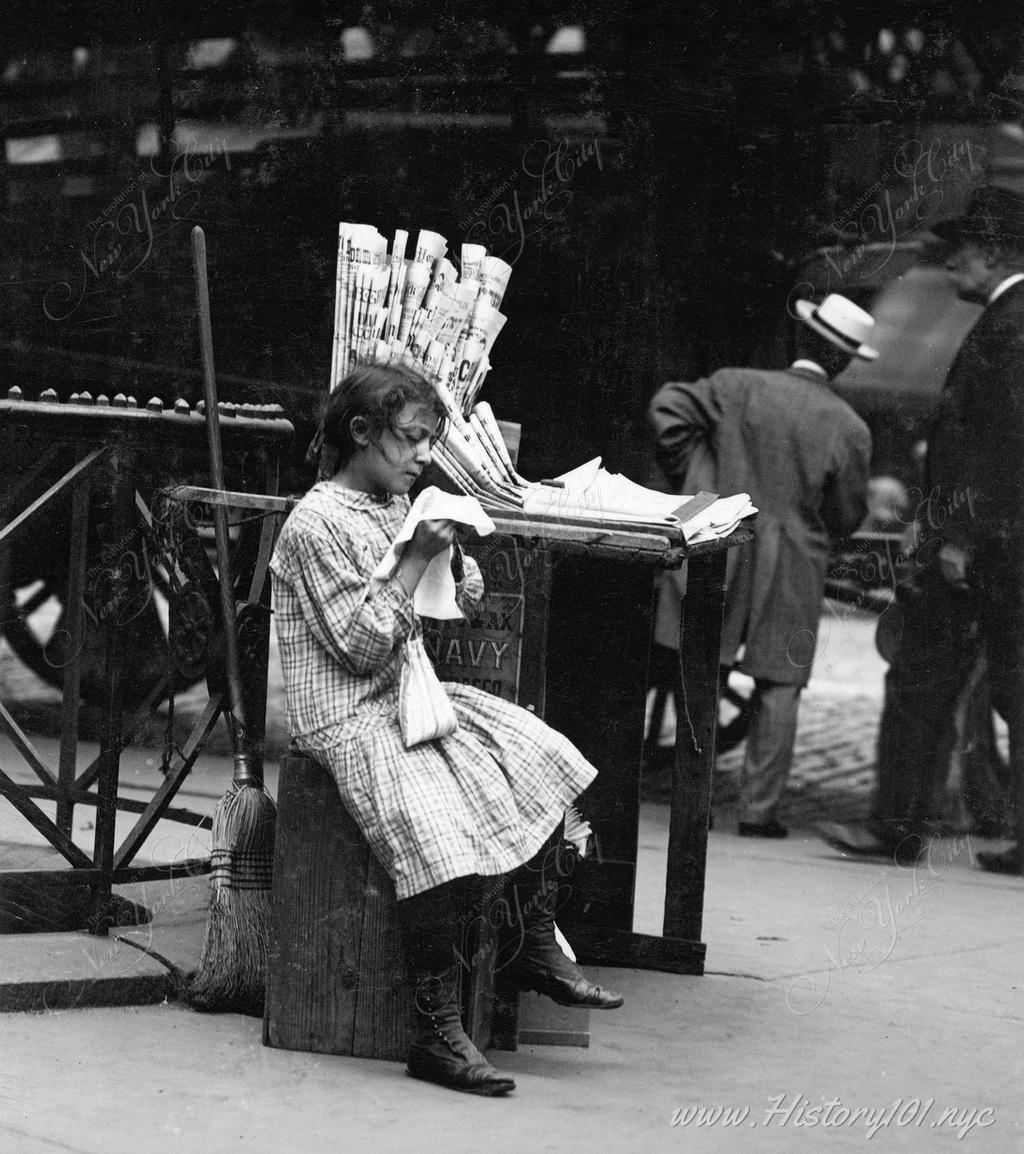 Photograph of Minnie Paster, a 10 year old having to work and tend a newspaper stand at Bowery & Bond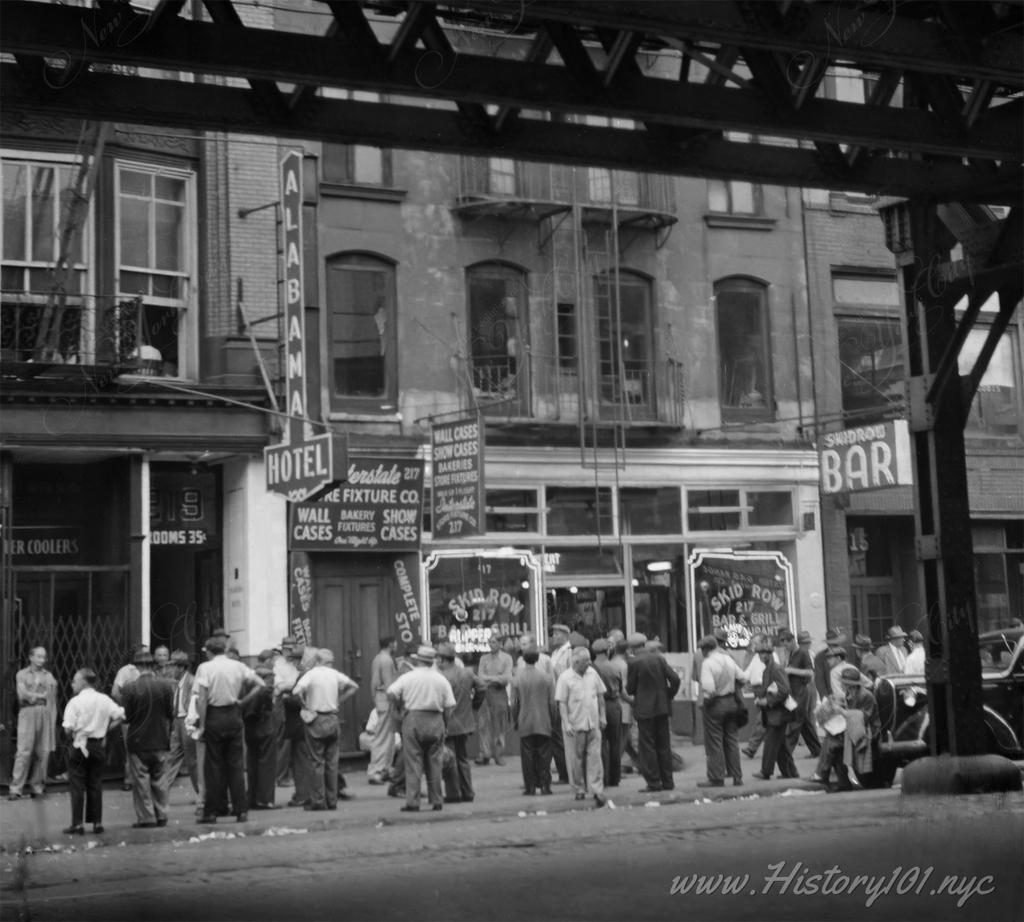 Photograph shows men gathered on sidewalk in front of the Alabama Hotel and Skid Row Bar & Grill in downtown Manhattan.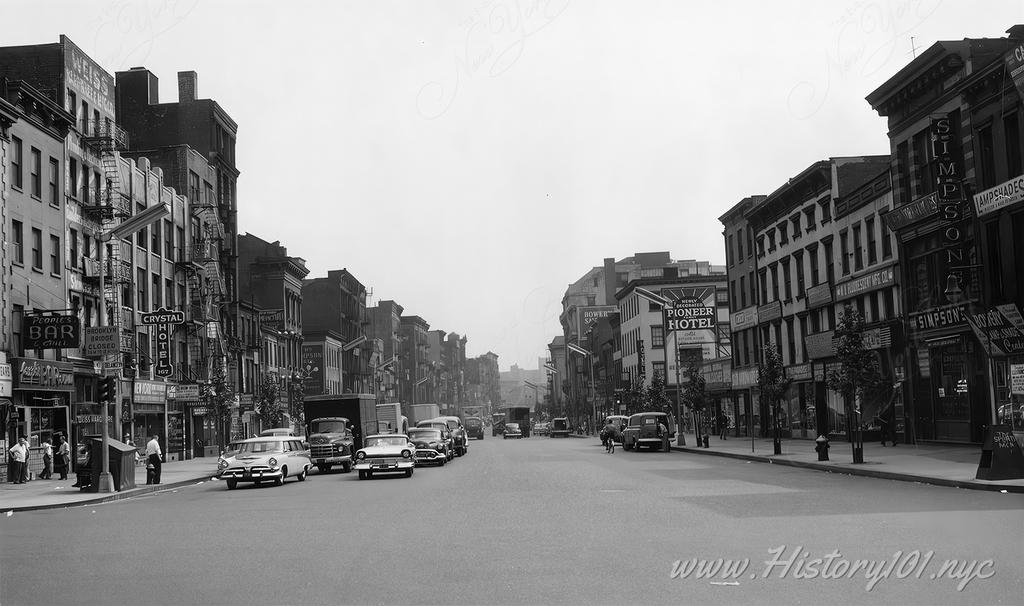 Photograph of The Bowery and Delancey Street showing cars at a stoplight and signs for the People's Bar, and the Crystal Hotel and Pioneer Hotel in distance.
---
---
History101.NYC is an ad-free learning resource available to the public at no charge.
This project is dedicated to exploring New York's fascinating heritage through the restoration of vintage photographs and prints.